Next Tuesday, my eldest son will be ten years old. This is unimaginable to me, and must therefore be false. As part of my effort to grapple with this harsh reality, here's today's installment of Friday Night Lists:
10 Things I Know Now That I Didn't Know 10 Years Ago
YEAR 1 — Leave the diaper on until the last possible second, unless you feel like a visit to the Bellagio.
YEAR 2 — Birthday cake and banana make awesome, all-natural punk hair product.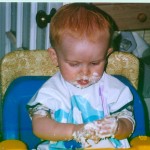 YEAR 3 — Parents who disapprove of a Jon Stewart-themed 3-year-old birthday party because The Daily Show is on at 11.00pm EST don't understand DVRs.
YEAR 4 — If you think 4-year-olds can't come up with sophisticated rhetorical arguments why they should be allowed to stay up as late as their newborn brother, you'd be wrong.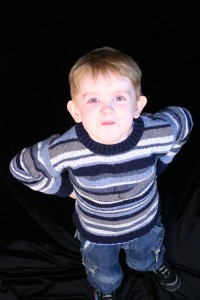 YEAR 5 — When your kid asks you "What's the Ring Cycle?" ask "Why do you ask, honey?" before launching into a 20-minute lecture on Germanic folklore, opera, and Looney Tunes. Because he may just be mispronouncing "rinse cycle" after hearing it in the Chipmunks movie.
YEAR 6 — The key that turns the lock in your child's mind may unlock yours too.
YEAR 7 — Imaginative children sometimes change religion after a really good book. Be open to it.
YEAR 8 — Summer is the best time of year, because kids can just grow right out the bottom of their shorts and you don't have to worry about pant length until school starts in the fall.
YEAR 9 — If your kid tells you he wants to die and tries to hurt himself, he's as serious as a heart attack. Listen to him and get help.
YEAR 10 — Wishing for a son like Calvin (of & Hobbes fame) is both a best and worst case scenario, because you might actually get one. (Or two.)