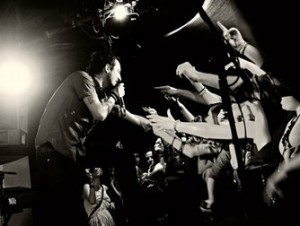 Sunday night, I was born again in the fires of rock and roll.
I've never experienced the bliss and fervor I see on the faces of people at religious revivals, so I can't be sure it feels the same. But if their god can't offer them the same welling joy, the fullness of heart, the redemption of primal psychic and sensory needs, then I can't fathom the attraction. And if some would say the bone-deep delight, the hope for the continued existence of love and beauty in this world, the honest-to-goodness peace on Earth and goodwill to all men that settled onto me with every blessed chord isn't divine, well then, I would have to tell them that they've never touched that state of being.
By now, you think I'm exaggerating, overstating the case for the sake of a writerly challenge or a philosophical argument. I'm really not.
A big part of it was the music. If you're not a fan of Frank Turner and the Sleeping Souls, let me deliver unto you that great good news. Theirs is a happy polyamory of punk, folk, and old-fashioned rock and roll — if you need an equation, maybe this will help: Frank Turner & the Sleeping Souls = Green Day + Flogging Molly + Buddy Holly. Turner's got a singular voice that fits all three genres perfectly, if you can conceive of such a thing without hearing it, equally at home in the cozy black box of a venue that is the famed Triple Rock Social Club or singing wrenching tales of blood and rebellion in a militia camp. And his ability to hold true to pitch and somehow stay melodic, no matter how raucous the refrain gets, is a rare thing as well. The band is equally accomplished, from the metronymic steadiness of the drums, to the ruffled arpeggios the keyboard layers on top of classic guitar and bass.
And the songs — Turner's got the gift of nailing the catchy hook and rousing chorus, in both tune and lyric. The best of his songs should be the anthems of nations or, at the very least, the downtrodden masses. Even the ones that bemoan the toll of age and cynicism on a generation too tired to be the happily angry punks we once were bestow an unexpected optimism and communal goodwill. As a result, fans come ready to sing along, and I watched with keen curiosity to see whether an arms-around-shoulders biergarten sway, or a rollicking mosh pit would break out (a bit of both, at various points, as it turned out). And when you're singing every song en masse, it's no stretch to smile and talk with your newfound allies, in a way that just doesn't happen at even the most intimate of other concerts. This was a show to restore a person's faith in his fellows.
That we were even there was the definition of Serendipity, or Destiny, or whatever you will. I took the wrong pair of headphones (broken) and the wrong exit for home on a trip to the doctor's one morning this fall. So while I'd been keen to listen to my own playlist, and to do it for a lot less time, instead I had the company of The Current, MPR's excellent modern station, as I waded through snarls of traffic. About 15 minutes after I should've been home, "I Still Believe" came on the air. I was smitten — new favorite song, on the spot. When I got back, I queued up the YouTube video to show my boys. After it finished playing, up popped a little box, announcing: "Frank Turner and the Sleeping Souls at the Triple Rock Social Club, October 23. Would you like to know more?" Why yes, yes I would. And at $13 a ticket, how could I pass up the chance?
So there we stood on Sunday night. We'd enjoyed the opening act, Into It Over It, enough to buy the guy's album, but I knew I couldn't make the whole show on my feet. We slunk off to the old bar next door, and I felt like a lame, hollowed-out, decrepit old punk. But a nice long sit, enhanced by some unexpectedly excellent comfort food, at least left me feeling competent to remain upright for the rest of the night. I was sore, and glaring at the hale and hearty 20-somethings occupying the few seats, when Turner and company took the stage.
And then they played, and I went to a different place. By the end of the first song, my jaded concert-going self was tingling with the knowledge that this was going to be an exceptional show. By the end of the second song, I forgot my pain and fatigue, no mean feat these days. And by the end of the third song, I found myself unexpectedly crying a little, as my senses sizzled like Fourth of July sparklers. My body thrummed, comforted and content as the heartbeat of my long-lost rock and roll mother lodged next to my own, bass in my belly and drums in my feet.
I was over-joyed, the pleasure of it all spilling out my fingertips like light. I couldn't stop smiling. I wanted to run outside, take everyone by the hand, and bring them into this place, this time, this feeling. And I left the show restored in all the thirsty crevices I didn't know were cracked.
So I'll just let Frank and the boys sing us out:
"I still believe in the saints
In Jerry Lee and Johnny, and all the greats
I still believe in the sound
That has the power to raise a temple, and tear it down
I still believe in the need
For guitars and drums and desperate poetry
I still believe that everyone
Can find a song for every time they've lost, and every time they've won
So just remember folks we're not just saving lives, we're saving souls and we're having fun…
Now who'd've thought, after all,
Something as simple as rock 'n' roll would save us all?
Who'd've thought that after all it was rock n roll."