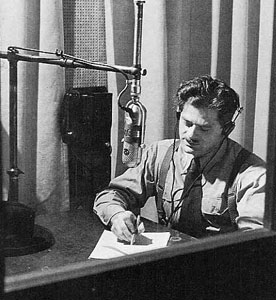 It's Veterans Day, a holiday which I think is getting a whole lot more notice this year on this uncommonly parallel date. Of course, the day and the men and women it honors deserves this much attention every year, but we Americans aren't particularly gifted at long memory, with such a skinny history on this continent, or laser focus, as our culture is built on perpetually scanning the horizon for the next and the new.
I've been incredibly blessed with extraordinary history teachers, from a very early age, as I've mentioned earlier. This only fed my inborn affinity and curiosity for the subject, so add what I've learned  on my own perambulations to all the excellent instruction I've received. In all, I'd like to think myself pretty broadly informed about our past.
So I was shocked and kind of appalled at myself when I discovered a gap in the shape of a man named Norman Corwin. Corwin was a writer and producers of radio dramas for CBS, a colleague of Edward Murrow's. He made weekly radio dramas throughout World War II, and because CBS was the underdog network, they gave him absolute free rein to do his war dramas however he liked, without having to show scripts or even titles to executives before the hour of its airing.
I'll give you a minute to just imagine about a world where that happens.
On Armistice Day in 1945, his drama "On a Note of Triumph" aired to an estimated audience of 60 million listeners. America's population as of July 1, 1945 is recorded as 139,928,165, so that's almost HALF of the people in America, listening to the same thing at the exact same time. Again, take a minute to just imagine that. It's a vaguely appalling thought, when we consider the things that get "big ratings" these days, though they're just a fraction of the population compared to Corwin's audience.
But they weren't listening to anything like what we get in media these days. Carl Sandburg called On a Note of Triumph "one of the all-time great American poems." This isn't any exaggeration. It is elegant and poetic, reminiscent of Walt Whitman's work. We just don't write like this anymore, and we certainly wouldn't expect an audience comprising half of all Americans — adult and child, more and less educated — to hang on every word of this kind of text anymore.
I found myself crying in the warehouse today, though, listening to some of the most beautiful literature I've ever heard in my life. I cannot urge you strongly enough to listen to the entire thing, but I want to share the passage called "The Prayer" here. I've got a lot to say about this passage — about the claims of moral rightness that it makes about science, for instance, so foreign from our current cultural notion of ignorance as somehow desirable — but I'll do that later. For today, please just absorb Corwin's words about sacrifice and justice and peace.
And share them, because if people made speeches like this, that articulated the best of America, in her halls of power, maybe we would look our veterans in the eye more often when we thank them for their service.
***
"The Prayer"
An Excerpt from On a Note of Triumph, by Norman Corwin (first broadcast on CBS May 8, 1945)
Music: Preparation: a slow, quiet, reverent theme which builds, not too quickly or obviously, under the Petition:
NARRATOR. Lord God of trajectory and blast,
Whose terrible sword has laid open the serpent
So it withers in the sun for the just to see,
Sheathe now the swift avenging blade with the names of nations writ on it,
And assist in the preparation of the plowshare.
Lord God of fresh bread and tranquil mornings,
Who walks in the circuit of heaven among the worthy,
Deliver notice to the fallen young men
That tokens of orange juice and a whole egg appear now before the hungry children;
That night again falls cooling on the earth as quietly as when it leaves Your hand;
That freedom has withstood the tyrant like a Malta in a hostile sea,
And that the soul of man is surely a Sevastopol
Which goes down hard and leaps from ruin quickly.
Lord God of the topcoat and the living wage
Who has furred the fox against the time of winter
And stored provender of bees in summer's brightest places,
Do bring sweet influences to bear upon the assembly line:
Accept the smoke of the milltown among the accredited clouds of the sky:
Fend from the wind with a house and a hedge
Him who You made in Your image,
And permit him to pick of the tree and the flock,
That he may eat today without fear of tomorrow,
And clothe himself with dignity in December.
Lord God of test-tube and blueprint,
Who jointed molecules of dust and shook them till their name was Adam,
Who taught worms and stars how they could live together,
Appear now among the parliaments of conquerors
and give instruction to their schemes;
Measure out new liberties so none shall suffer for his father's color
or the credo of his choice:
Post proofs that brotherhood is not so wild a dream
as those who profit by postponing it pretend:
Sit at the treaty table and convoy the hopes of little peoples through
expected straits,
And press into the final seal a sign that peace will come
for longer than posterities can see ahead,
That man unto his fellow man shall be a friend forever.
Music: up to a grand conclusion.