I saw Star Wars for the first time when I was two years old. I perched on a stack of phonebooks in the front seat of our Ford pickup, and the drive-in theater screen enveloped my whole world. I don't remember what must have been the poor, crackly quality of the sound—the expansive visual feast polished the music and dialogue to match.
I fell instantly, deeply in love.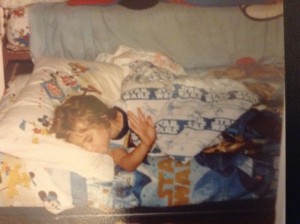 Star Wars was all I wanted to talk, or even think, about. As my mom changed my newborn sister's diapers, I fed her whole scenes of dialogue—memorized on contact from that first viewing—so I could have an acting partner. I roamed over our backyard swing set with tiny fists full of action figures, so many I had to stick some in my mouth to climb the slide ladder. Forgetting to take them out again resulted in the premature decapitation of several first-run figures as I bit down when my feet hit the ground. I had Star Wars bedding, Star Wars towels, Star Wars records, and one sad misfire of a Star Trek pajama set from a well-meaning grandparent.
I played Star Wars with my preschool classmates and neighborhood friends—but only the boys. The other girls weren't interested, and I quickly learned that inviting them into our lightsaber battles and X-Wing flights earned me their scorn. So many of my gendered ideas about who I preferred to be friends with came directly from this experience. Boys shared my passions, and didn't expect me to navigate social minefields. We came, we saw, we blew up the Death Star. Simple.
I wouldn't have a significant group of female friends until I was in college.
And as the only girl, of course, I got to be Princess Leia. As an undiagnosed Asperger's Syndrome kid, I must grudgingly admit that I was probably more like C3P0—pedantic, oblivious, anxious, always interjecting irrelevant, self-centered observations. But Leia was everything I wanted to be—dashing, brave, imperious, powerful, efficient, and beautiful. Her role let me direct the play scenes in her bossy, self-assured voice, and I used the authority she lent me to muscle my way into even more action, assigning her piloting skills and a lightsaber before the Expanded Universe would.
The only time Star Wars got complicated was when more than one girl wanted to join in. As my sister grew up and I dragooned her into play, the absence of another female role led me to assign her to the only non-gendered main part I could find: R2D2. Artoo was the perfect little-sibling role—non-verbal, swept up in the action, useful as a tool but without the need for much consideration. In our thirties, I would joke about all this at a family dinner, only for my sister to narrow her eyes and growl with long-held bitterness, "I WAS ALWAYS THE DROID."
I was shocked by that reservoir of resentment, but thinking about it more, what else were the options for two girls in the Star Wars cinematic setting of the 1970s and '80s? Women weren't visible on the command levels of Empire starships; their numbers were infinitesimally better in the Rebel bases. Stormtroopers and aliens were ungenendered to the untrained eye. So what's left? Those two goth chicks with the water pipe in Mos Eisley Cantina? Mon Mothma or the dancing slave Oola in Return of the Jedi? Sy Snootles?
Shows like Star Wars Rebels, books like Chuck Wendig's Aftermath, and all the trailers for Episode VII: The Force Awakens represent a hyperspace jump forward in representation for kids of all kinds. Children of color get action heroes to play; so do girls. Even queer kids get heroes that just five years ago would've been unimaginable in a mainstream media juggernaut like the new Star Wars universe.
I have no patience for alleged fans who can't see how this is a good thing. Their pristine fandom was never fair or representative of all the people who loved its stories; we shoehorned our way into the drama through sheer force of childhood creativity.
The simple fact of the matter is this: The future we can imagine grows from the present we live in. As I stood at the bus stop Tuesday for the first day of school, I looked at the crowd of 15 kids, all neighbors and friends of my sons in our apartment complex. It's as varied as it gets: white, black, Latinx, Somali, Japanese, boys, girls, genderqueer, disabled, neurodiverse. The more of them who see reflections of themselves in visions of the future, the more of them will have the confidence to follow their dreams to create the real future we'll live into. That world can't help but be better for the diversity of lives it values.