The sun in New Zealand is not messing around.
That seems like an absurd thing to say, but it's absolutely true. The sun isn't that friendly yellow circle on kids' drawings. It's a vicious predator that will not be stopped.
It's not the amount of sun we get. It's the intensity. Once, I sat outside with my book, and I propped my feet on another chair. Five minutes later, I could feel my shins scorching. My shins.
Peak UV levels here are 40 percent higher than at the same latitude in North America, and New Zealand has the highest rate of melanoma in the world. Folks take sun exposure very seriously here. Rash guard shirts and full-on wetsuits are for sale in every swimwear section. Homes often have a pump bottle of SPF 50 the size of a mayonnaise jar in Iowa. Long-sleeved shirts and pants are common at the beach. And lots of people wear brimmed hats–you can even buy them as part of kids' school uniforms.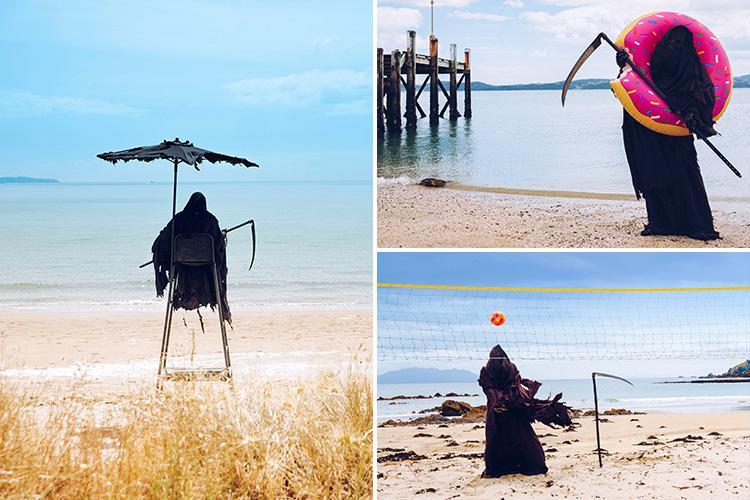 The atmospheric conditions cause the severity of UV radiation here. There's still a major hole in the ozone layer, but it's over the continent of Antarctica. That said, "plumes" of ozone-depleted air can wash up over New Zealand, thinning the atmosphere so more UV rays get through. The lower concentration of air pollution here actually lets in more UV rays as well.
And try as I might, no matter how well I SPF it up or cover up, the sun is determined to leave a mark. As a person with the approximate skin color of a recently drowned person, I feel targeted. I know it's coming for me. And when I let my guard down? It will attack with extreme prejudice.