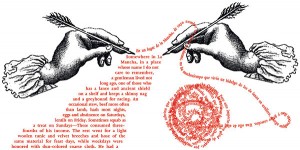 Reverb Broads 2011, December 8: Why blog? Why do you or why do you like to blog (recognizing that these are not always the same thing)? (courtesy of Kristen at http://kristendomblogs.com)
I've only had this blog since this autumn, though I've been writing little essay-type things on LiveJournal and Facebook for several years. There are several reasons why I do this; I'll leave it to you to figure out which motives lie behind which posts.
I blog because I can never find a therapist I like.
I blog because it is a joy and a puzzle to put words together in new, unexpected ways.
I blog because my soapbox isn't high enough.
I blog because my family is tired of hearing the same old stories and opinions.
I blog because the world needs a married, maternal, pedantic, pagan, bisexual, midwestern, liberal, artistic, overbearing, articulate, exasperated, exhausted, ironic, hilarious, outraged, optimistic, possibly insane observer.
I blog because nobody will give me a TV show.
I blog because I'm a historian, and I can't stand not being in charge of my own contributions to the historical record.
I blog because the lessons I suffer to learn might make someone else feel better (or at least laugh).
I blog because spitting into the wind just isn't futile enough some days.
I blog because I'm an attention whore, and your comments feed my ravenous ego.
I blog because writing out the words that loop through my head lets me get to sleep.
I blog because it's an expression of my First Amendment rights.
I blog because I'm determined to increase the incidence of correct punctuation usage on the Internet.
…and finally…
I blog because I have a voice, and it can push back the dark.