It is, quite abruptly, spring here in Minnesota. It's been that way for about a week now, and it's utterly unsettling. Between the unseasonably warm weather, and the early Daylight Savings Time change, I don't think we've eaten supper before 7pm in the last seven days. My boys have already collected a whole spring's worth of scrapes and bruises–it looks like we've been beating them from knee to ankle.
It's hard to complain about such beautiful weather, but I'm one of many people (especially women) for whom hot weather is an uncomfortable season to be dreaded.
See, I'm fat.
Not morbidly obese, but not just a little pudgy either. I'm tall (5'9″), but that only helps so much. I've got a classic hourglass figure, but they don't really make jeans or shirts for that shape anymore. I can wear a 16, but I'm more comfortable in an 18. Most of my T-shirts are XL. My bra size is officially Not Small.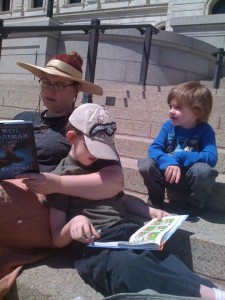 The best thing that can be said about this condition is that my kids like to snuggle with me because I'm cushy. Also, I'm perfectly healthy for my weight–blood pressure and sugars are normal. Certainly the extra weight doesn't help my fibromyalgia, but I've been thinner and the pain wasn't measurably better.
But when it gets warm, I sweat. A lot. I can't wear a skirt comfortably without Spanx because my inner thighs get raw from chafing; along the underwire line of my bra, too. I like to swim, but between my year-long pallor and the rolls and ridges, I don't just sit around in my swimsuit–I'm either in the water, or I'm covered up.
And then there's the psychological side. My self-esteem has never been particularly strong. My mom used to bemoan the fact that, despite the lavish praise and compliments she used to shower on her kids, my sister and I both ended up with self-esteem as bad as hers. It wasn't until I was 30 that I realized that it didn't matter what she said about us–it was the fact that she never had a nice word for herself that got handed down to her children. Sexual assault didn't help either. He was the first guy I'd ever let see my naked body. He looked, crossed the room, and turned out the light. That left a deep mark.
Sometimes, I think it's not so bad, that I carry the extra weight well enough, that I'm pretty enough in other ways to let that slide. But what I see in the mirror doesn't match what I see if I'm unlucky enough to get caught in a picture. Sometimes, I don't even recognize myself–I squint at the fat person on film, until my breath catches and I realize that's me. That my mirror is a funhouse mirror after all, but the kind that fools you into thinking things are better than they actually are.
And the culture finds all sorts of ways to remind plus-size women that they're less than. Affordable plus-size clothes are made of cheap fabrics and rejected patterns that would never be found in the juniors or misses racks. It gets even worse if you need maternity clothes. Sure, companies like j.jill make nice, classic clothes from quality fabrics in "women's" sizes, but they don't carry them in stores where those women can actually try them on–we're left with catalog roulette. And pretty lingerie? Only Frederick's of Hollywood carries plus-size "sexy" underwear in their stores, and the fabrics are all tasteless and harsh against the skin.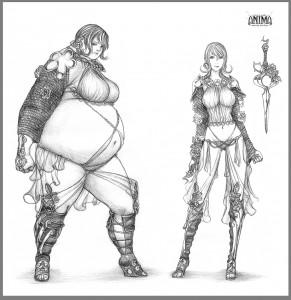 Don't even get me started on all the other ways fat people are shamed everywhere they go. The seats in airplanes and movie theaters. Booths at restaurants. Hospital gowns. Baby Bjorns and Boppys. The mean, greedy, gluttonous fat women in movies, TV, even comic books. The stares if you dare to wear something revealing for a date, or scamper around with your kids in your swimsuit, or dare to order dessert. I've left the house feeling pretty and sexy and appreciated by my Darling Husband, and come home so ashamed and unattractive that I change into dumpy pajamas in the bathroom, away from even his gaze.
I enjoy the feel of sunlight and warm air on my skin. I like to run and play with my kids, on the days the fibro lets me. I like silk and linen and soft, thin cottons. I like elegant dresses and swirly skirts and pretty tops.
Courage shouldn't be a necessary accessory. It's almost impossible to find in my size.