So, you might've heard a little something about the Supreme Court today. In fact, you're probably sick of it by now.
Me, I've been waiting on Monday and Thursday mornings for almost three weeks for this ruling. With the state of my health and my son's, our total family income, and my husband's job, it's pretty clear why I would be in favor of the Affordable Care Act (the real name for Obamacare, in case you've forgotten). We're already beneficiaries of state-funded healthcare, and I've elaborated at length on why it's so critical for me and my family.
I'm not going to go into detail today about the other mothers, college students, workers, grandparents, and desperate people for whom this ruling is the first ray of hope in a long, bad time. Instead, I'm going to show you the one reason I'll sleep better tonight.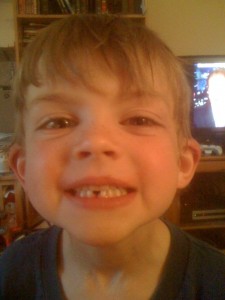 This is Griffin. He turned six in April. You can see that he just lost his first tooth. I don't write about him as much as his older brother, but that's my failing, not his. He's weird, he's wonderful, he's so adorable it makes me spit.
And he's perfectly healthy.
But because his mother has a history of fibromyalgia, Asperger's, and depression, his brother also has Asperger's, and his father has genetically high cholesterol and needs hella-strong glasses, I've worried every day of his life that, when the time came for him to go out into the world on his own strong legs and his own mighty soul, he wouldn't be able to get health insurance. Despite his own good health, despite his own boundless energy, my own limitations might deprive him of that security.
And today, I don't have to worry anymore. That's what this decision means to me. That's why I danced and cried in my living room at 9:15 a.m. CDT as the tweets scrolled up my screen and reporters scrambled on the steps of that majestic building.
If you don't like this decision, if you feel it lessens your freedom, I frankly don't care. Because tonight I'll sleep sounder knowing that both my boys will have access to the care and security that good, steady healthcare brings.