This'll be a flash blog post, because I'm flash freaking mad.
I try not to get triggered into red-haze, blinding rage by every awful thing about autism that comes across my Twitter machine. But this was just too much to ignore.
You wish your kids had cancer?! And you're willing to say that? Not just in the privacy of your own twisted mind, or the quiet of a deep night of self-loathing insomnia, or even to a spouse who might recoil in disgust that you would ever give voice to such a repellent thought, but ON THE COVER OF A GODDAMNED BOOK?!!
Autism is not an illness. It's not even a disorder–it's an overabundance of order. Neurodiverse people have difficulty engaging with a world that's too harsh for their acute senses.
We Are Not Sick.
Autism Is Not A Death Sentence.
But parents like you who hate their autistic children so much, they'd prefer it if they had a devastating disease that requires even more devastating therapies with lifelong effects and increased risks including (most cruelly of all) more cancer, you are a death sentence. Parents like you kill their children because they don't see the person–they only see the work and therapy and bills and grief. So they push those children under the bathwater and don't let go. They wrap plastic bags and blankets over the angelic faces of children who are so much more than autistic. Sometimes the parent ends their own lives too, but more often than not, they just shake the Etch-A-Sketch and try to conceive a more "wanted" child who'll give them the fulfillment of all their dreams.
And your book is going to come up in Google searches. Vulnerable parents, fresh from the shock of diagnosis, will see that title in the results. Some may even buy it from the greedy, vulture-like vanity press that put your despicable words into print. And they will think their child would be better off dead.
You. You did that. To the parent, to the child. You did that.
But you also did one other thing, one you didn't expect. You made me mad.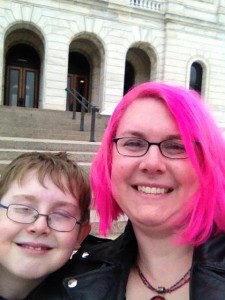 See, I'm autistic, and so is my ten-year-old son. We are (and I don't make such claims lightly) rather amazing. Our memory, our keen senses, our vast imaginations, our complex thought processes, our rapid-fire senses of humor. Our capacity for unconditional love and good work. And we're friends with other autistics who inspire and motivate and enrich and encourage us every single day.
I haven't given up a single dream for either of my sons, the autistic or the neurotypical. Why should I? They may achieve those goals in unexpected ways, but they can do absolutely anything in the world.
How do I know? Because I have. I've graduated, made lasting friendships, participated in government, found and married my one true love, worked toward justice, invented things, created works of beauty, overcome adversity, and mothered two beautiful boys. I'm autistic, and my life is (sometimes uncomfortably) full of meaningful work and relationships.
I've been doing a lot of work on health care reform here where I live. In fact, I've been testifying at the state capitol about the importance of comprehensive mental health coverage as the state designs the new health care exchanges required by the Affordable Care Act (aka Obamacare). City Pages published an outstanding article about the fight to enact the Mental Health Parity law Senator Paul Wellstone fought for from 1990 until his tragic plane crash in 2002. Parity means that medical providers and insurance companies will be required to treat mental health by the same standards as physical health. The article is full of horrible examples of discrimination by insurance companies: a woman with an eating disorder was diagnosed to need an inpatient program by four doctors, and her insurance company, United Behavioral Health, rejected her claim nine times for such reasons as "'There are also religious groups who fast and that is not psychopathology.'" The woman's lawyer commented, "'Imagine telling someone with breast cancer to try harder.'"
Mental health parity looks like it's finally about to happen. If enacted, it'll help 114 million Americans, but cost less than 1 percent of the total healthcare expenditure under the ACA. When President Clinton enacted parity for federal employees' health plans, it actually ended up saving the government money. Parity makes good economic, medical, and human sense.
Someday soon, dear author, your autistic kids will be able to get the help they need without a major fight. The only obstacle to them unlocking their full potential will be you. When they get around you–and they WILL get around you–you'll be the only one left who needs mental help. Won't you be grateful for good mental health coverage so you can get over your poisonous, miserable ideas about parenting?